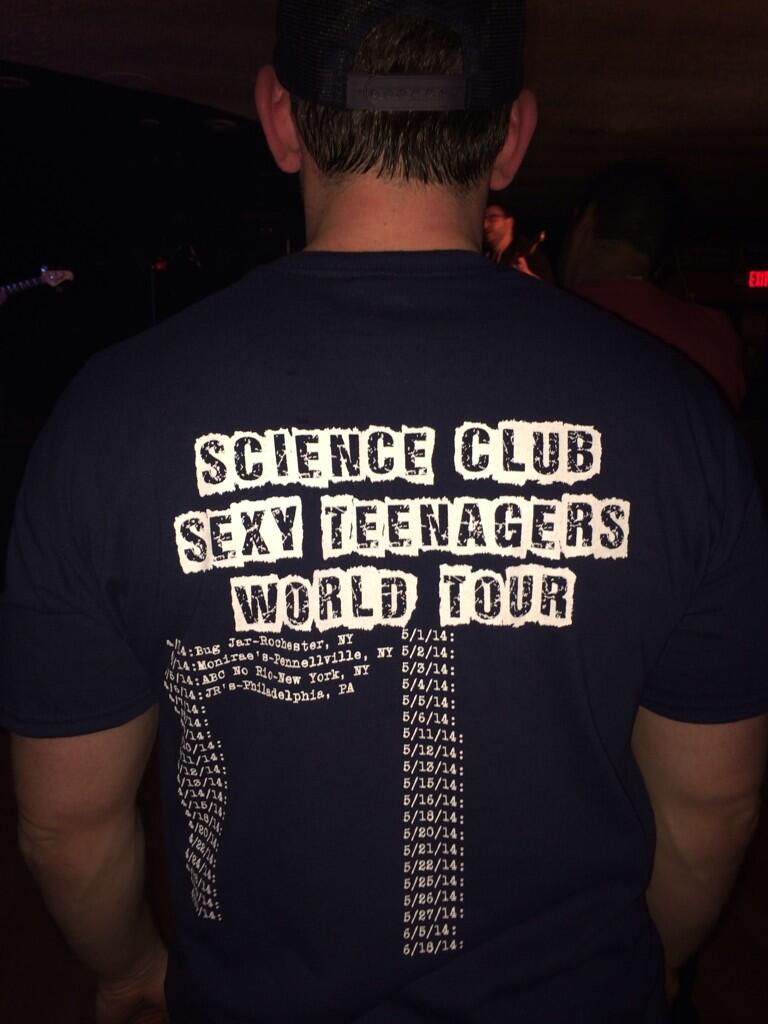 It's been about a week since the end of the Science Club / Sexy Teenagers / Pastries tour, affectionately dubbed (by me) the "This Is So Dumb" tour. I'm still not sure what to say about it. Here's the background, I guess.
Let me start here: we had a lot of fun. Like, a lot of fun.
People need to be thanked, and at the risk of turning this blog post into liner notes (meaningful only if you see your name mentioned, tedious under all other circumstances), I'm going to try and remember them all here. If I missed you, I'm deeply sorry. A lot was happening, and I can't remember it all.
Thank you to Envious Disguise for opening the Rochester show and playing "Hybrid Moments" during your set. It motivated us to play "Where Eagles Dare," a song I think we've practiced once in 2014.
Thank you to Sarah, who shows up under a different name in the first ever Science Club song, for coming to watch. I'm sorry my parents didn't recognize you. I hope you get that new job. I hope life gets easier for you. I always like seeing you, and am glad that you are doing as well as you are. Thanks for letting me play Nintendo in your living room.
Thanks to the people in Rochester who knew the words to some of our songs. That felt incredible.
Thanks to Lucky 33 for putting together the Pennellville, NY show, far and away one of the strangest, most endearing shows I have ever played in my music life. Playing Monirae's is like playing a hunting lodge. It was a singular experience and I'm stoked you guys let us be a part of it. Fun fact: the bar we played also hosted Trapt, they of "Headstrong" fame. If that isn't some shit to tell your grand kids, I don't know what is.
Thanks to Red from Lucky 33 and, more specifically, thanks to Born Again Savages for making me feel like an asshole that I ever thought 28 was too old for punk. If I'm half as impressive as Born Again Savages are in 15 years, I will be a lucky man. Sometimes I get caught up in these antiquated ideas of what "being an adult" and "acting my age" is supposed to look like. Having people like you around remind me not be such a full-of-my-own-shit nightmare. More on this point later.
A hearty Fuck You to the dude working the New York State Thruway Burger King at about 3:30 a.m., somewhere outside Utica. You have a shitty job, I don't deny it. I've worked shitty jobs like yours. You didn't need to be such a fucker. You made that choice. I'm sorry life has put you in a place that you have to sell Red Bull to sleepy travelers, but even within that framework, there is room to be happy. You chose to be a cocksucker. So be it. I'm sorry.
Thanks to the buff, handsome bartender at the Mexican restaurant across from ABC No Rio in Manhattan for buying us a round of drinks. We were far too underwashed for your restaurant, and it was cool of you to extend that olive branch to us sweaty sacks. Sorry we never came back.
Thank you to ABC No Rio for being such a great place. People aren't just going to rock and roll clubs to see music anymore, so the fact that a place like ABC No Rio, which is just a room that people come to for punk shows, is remarkable, and only able to happen because of a tight-knit community. Thank you for sharing that with us. I know there are fewer of us around the fire now. That just means you have to hold whoever remains even tighter to stay warm. Go to there if you can, it's a special place.
Thanks to Hopeless Otis for the following reasons: playing ABC No Rio with us, playing JR's Bar the next night at the drop of hat, doing a CD swap with us, being such positive, fun dudes, swapping shirts with the Sexy Teenagers, talking about community and meaning it. I hope you guys make millions of dollars, or, failing that, get a good writeup on Punknews. I'm sure we'll see you again.
Thanks to JR's Bar for being the best fucking punk rock place in Philadelphia. The amount of time I've spent sweating and shouting in that dive is remarkable and indefensible. I wouldn't take it back for anything.
Thanks to The Pastries. It was great watching you every day, great watching you get more comfortable as you played, great to buy soap from Matt. I hope you guys put out more music, because this isn't enough for me. Watching strangers dance to your hits was one of the best parts of the tour.
Thanks to Drew for throwing up in Rochester, then disappearing to walk to Friendly's in the morning. Your status as a man of mystery is cemented in legend and will never subside.
Thanks to Matt for doing this thing with us. You are clearly, obviously, glaringly too big time for this tour, and having you on it not only made us all feel a little more legitimate, but it made us smell better, too (buy some soap, you savages). You were much more kind than could have been expected, and yet. Thanks so much.
Thanks to Justin. I'm not going to get into it again, but I've never been more jealous of a songwriter that I personally know.
Thanks to the Sexy Teenagers (or, as Joey D called them all tour to my great delight, "The Sexys") for doing this with us. Thanks for not being too hard-partying, for driving most of the time, for making us laugh, for playing punk in the van, for singing along to all our songs, for working the merch table, for helping us book the tour, for wanting to do it again, for treating us well. Couldn't and wouldn't have done it without you. I love you assholes. Buy their CD, alright?
Thanks for anyone who fed us, lodged us, bought a CD, bought a shirt or took a pin.
Thanks to everyone who sang happy birthday to me.
Thanks to Ray Ray, for taking these absurd photos of us.
*****
I have a full-time office job, a girlfriend I am crazy about, a car, a rental payment and various other trappings of what I have always, always, ALWAYS considered to be an "adult" life. In my head, I've always thought of "adult" as the same thing as "successful." I thought, if I'm still 28 and just playing in a band and working some shit band, I will have become a casualty, another person Rock and Roll lied to. Fuck that. After this tour, being at work seems a little less vibrant. I'd leave again tomorrow if I could. Forget being "an adult." This was so fun, I considered quitting my job, getting a retail job at Staples and doing this once a season. I don't think I will, but I considered it strongly. This was unlike anything I've ever done. It destroyed my voice (one more thank you, to Nick, for singing lead at Jrs), robbed me of nutrients, and almost killed me somewhere between Syracuse and Schenectady. It was the most fun I've had in years.
Science Club Forever,
Nate
April 6: JR's Bar w/ the Sexy Teenagers, The Pastries, Hopeless Otis
April 5: ABC No Rio w/ the Sexy Teenagers, The Pastries, Hopeless Otis
April 4: Monirae's w/ the Sexy Teenagers, The Pastries, Lucky 33, Born Again Savages
April 3: The Bug Jar w/ the Sexy Teenagers, The Pastries, Envious Disguise
March 22: Voltage Lounge
March 1: The Trocadero
Jan 11: The Lit Lounge
Jan 10: Voltage Lounge